Runtime error 216 typically occurs when starting up a computer using a Windows-based operating system, using Internet Explorer, or using another Windows-based application. However, this particular runtime error is known to occur on computers that have been infected with one or more viruses. SubSeven Trojan Virus is one that has been linked to this problem in particular.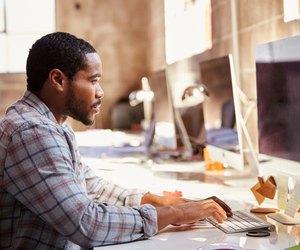 credit: monkeybusinessimages/iStock/Getty Images
Virus Scan
Step
Boot up your computer. If you cannot get your computer to fully load the Windows operating system, then you will need to boot up using Safe Mode.
Step
Turn the computer on and immediately begin to press the F8 key on the keyboard to access the window that allows you to access Safe Mode. Using the cursor or arrow keys on the keyboard select this option from the window "Last Know Good Configuration."
Step
Scan the computer using a reliable anti-virus application. If you don't have one, download and install one. Suggested programs include AVG or Ad-aware by Lavasoft. However, you can use any reliable anti-virus application that you want.
Oakley SmartWheel
Step
Disable your Oakley SmartWheel version 1.0 mouse driver through the Control Panel since Runtime error 216 is also known to occur when using Internet Explorer and the Oakley SmartWheel version 1.0 mouse driver.
Step
Install a different Microsoft friendly mouse per the guidelines on the packaging.
Step
Check to see if the problem continues.