LG has released a line of cellular phones that come equipped with a sleek touch-screen LCD display. Since these screens are high-tech and sensitive, they can be prone to damage or scratches. If the touch screen on your LG is damaged, and you don't have the money to take the device to a service technician, you can open up the phone and replace the touch screen yourself.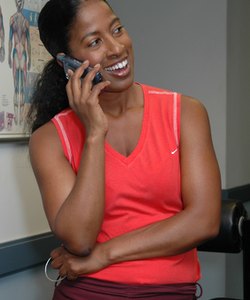 Step
Turn off your LG and slide the back battery door down and off of the device. Lift the battery out of its compartment and use your Phillips screwdriver to remove the four screws located on each corner of the compartment.
Step
Use your fingers to remove the back panel from the phone. The green motherboard will be revealed underneath.
Step
Unplug the four ribbon cables that connect at the middle of the motherboard. Unplug the antenna cable in the top-right corner of the board. Lift the motherboard out of the phone housing and set it aside.
Step
Use your Phillips screwdriver to remove the two screws located at the top of the phone housing, then separate the back frame from the front housing of the phone.
Step
Lift the damaged LCD screen out of the phone housing. Replace it with a brand-new LCD screen (available from your LG retailer or online) and reassemble your phone in the reverse order you took it apart.