If your computer is throwing an error stating that there is an "Unmountable Boot Volume," there is some sort of error that is preventing Windows from reading your primary hard drive. You need to scan for and repair any errors on the drive to repair the problem. If you've just had a power failure or performed a hard shutdown, it could be a one-time issue, but if everything was running normally before you received the error it may be indicative of a failing hard drive. The repair may work once or twice, but eventually the drive will fail. If this is the case, back up your data while you have access to the drive.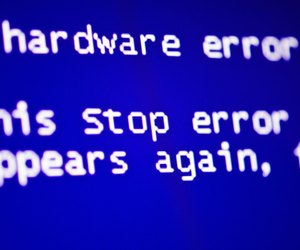 credit: PaulPaladin/iStock/Getty Images
Use Check Disk
Step
Insert the boot media for your Windows operating system and power off your computer.
Step
Power on your computer and, when prompted, select the boot media that you inserted. Note that some computers may use a Secure Boot feature that prevents booting from external media. You will need to turn this off before proceeding.
Step
Choose "Next" when Windows Setup appears, then select "Repair Your Computer." If possible, use "Automatic Repair." If that is not available, choose "Command Prompt."
Step
Type: "chkdsk /r /f" without quotation marks and then press "Enter." The check disk program will scan the hard drive for errors. The "/r" switch tells the program to recover any data from bad sectors and the "/f" switch tells the program to attempt to fix any bad sectors. Depending on the size of your hard drive, this process could take from several minutes to several hours.
Step
Remove the boot media and restart your computer.
Enable Booting From External Media
Step
Power off your computer. Power it on and look for the key to enter setup -- typically it will be a function key such as "F1," "F2" or "F10." It may also be "DEL" or "ESC." Press the key to enter the setup utility on your computer.
Step
Use the arrow keys to navigate the setup menu. Find the secure boot configuration option and press "Enter" to modify the settings.
Step
Disable the secure boot option and allow the Windows boot utility to administrate boot devices. The Windows boot utility may be called "Legacy Support" or something similar.
Step
Insert the boot media into your computer, save the settings in your setup utility and restart your computer.