For anyone who has trouble seeing or reading, reading something on a computer can seem even more difficult to manage. You want to be able to read the news or emails, and the computer font is just too small to see. Though you find the task of reading anything on the computer arduous, changing the font size through the reconfiguration of your computer screen takes only a moment. Maximizing the font while you surf the Internet is also an option.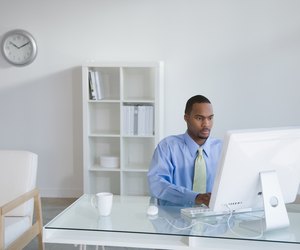 credit: Jupiterimages/Photos.com/Getty Images
On Computer
Step
Right-click on an empty spot in your desktop. A window titled Display Properties will open with several tabbed options displayed near the top.
Step
Click on the "Settings" tab. The window will now display the look of your monitor settings, as well as the means by which you can create larger font. You will see toward the bottom of the window an option titled Screen Resolution, which has a bar that enables you to change the ratio of pixels on your monitor.
Step
Move the bar to the "Less" side to create a larger font. View the sample look of the monitor in the middle of the window to see which size will best fit your needs.
Step
Click on "Apply" to set the new screen resolution. A small window will appear asking you if you want to keep the settings. Click "Yes" if you like the new screen resolution. If not, click "No."
While Surfing the Internet
Step
Press the "Ctrl" key located on your keyboard. For Mac users, hit the "Command" button.
Step
Press the "Plus Sign" key to expand the size of the font seen on websites. Keep the "Ctrl" key pressed as you do this. Hit the minus key to make the font smaller.
Step
Use the scroll on your mouse to make the size of the font smaller or larger as you press down on the "Ctrl" key. This is an alternative method to the plus sign and minus keys operation.