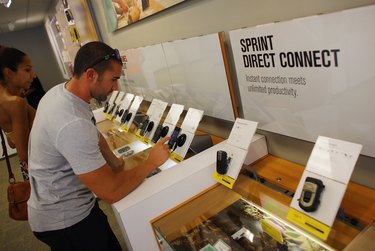 Most Sprint contracts require customers to wait two years or more to upgrade their phones. If your phone is dying or malfunctioning and you're close to upgrade eligibility, you should be able to obtain a replacement. If your phone model is outdated and no longer made, you'll need a newer model. There are other ways to get your hands on a newer model before your upgrade date.
Special Promotions & Programs
The Sprint Premier customer rewards program offers members the opportunity to upgrade early. Members of the program are offered an upgrade credit after the first year of their contract. You're eligible for Sprint Premier if you've been a Sprint customer for over 10 years or if you have at least three months of service paying $69.99 on a single line or $99.99 on a shared line. Sprint also runs time-limited opportunities for customers to upgrade phones before their eligibility dates. A promotion for Sprint Easy Pay launched in early 2014 allowed customers to upgrade early as long as they chose the Sprint Easy Pay option, paying for the phone over 24 months instead of paying the full amount upfront. Existing Easy Pay members could also upgrade early as long as they paid off any balance left on their accounts.
Pre-owned Devices
If you want to replace your phone but aren't yet eligible for an upgrade, you can get a newer model by purchasing a certified pre-owned phone from Sprint. Sprint inspects and tests each used phone before certifying it, sending phones for repair if needed. When you purchase a pre-owned phone, your date of upgrade eligibility won't be affected, since you don't have to extend your contract. The exception is a pre-owned iPhone, which will require starting a new 2-year agreement and beginning a new upgrade eligibility waiting period.