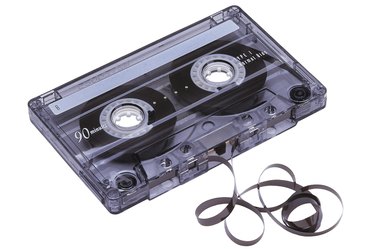 A mixtape is a collection of songs on a compact cassette tape. The mixtape is usually a personal collection, compiled of a person's favorite songs or a group of songs designated for someone else. Mixtapes are a retro version of a modern playlist but can still be fun. The difficult aspect of a mixtape is that you need a stereo that still plays and has a recording function for cassette tapes. You can create a mixtape using music from a compact disc or the radio.
Step 1
Place a blank cassette tape in the cassette deck that has a recording option.
Step 2
Put the CD you are using to get your first song into the CD deck and set up the song so it is ready to play. You can use the radio as well, but of course you have to hope you will get lucky enough to get the songs you want.
Step 3
Press record on the cassette tape deck and let it run for a couple seconds.
Step 4
Press play on the song you want to put on the mixed tape.
Step 5
Stop the cassette tape recording when the song is over.
Step 6
Repeat steps 2 through 5 until the mixtape is complete. You will need to switch sides on the cassette tape once it is full. To do this, just take the cassette tape out. Flip it to the other side and put it back in the cassette tape deck.
Step 7
Use a permanent marker to write a name for your playlist on the cassette tape.
Things You'll Need
Cassette tape

Stereo

CD or radio

Permanent marker