You probably accumulate a distinct set of contacts within each of your social and work circles. While you can sync them all to your iPhone from your computer, iCloud and other online sources, you don't need to see all your contacts all the time on your device. With its Groups feature, the Contacts app enables you to hide or display specific groups of contacts as needed so that you can browse and search through them more efficiently. If you want more privacy, consider hiding sensitive contacts within a password-protected third-party iPhone app.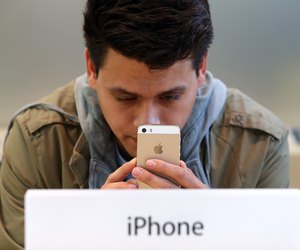 credit: Justin Sullivan/Getty Images News/Getty Images
Hide Contacts Using the Contacts App
Step
Tap "Contacts" on the Home screen to see the list of your contacts.
Step
Touch "Groups" to display several clusters of contacts, each identified by the source from which you imported or synced them to your iPhone. For example, if you've permitted your iPhone to show your Facebook contacts, a contacts group called All Facebook is displayed. By default, each group is marked with a check mark, indicating that their contacts are visible in your Contacts app.
Step
Touch the "Hide All Contacts" button, which only displays if you have more than one group of contacts synced on the iPhone. This command conceals all your iPhone contacts. When you tap the "Contacts" app afterward, you'll see a blank directory.
Step
Tap "Show All Contacts" to reveal all your groups, and then tap to uncheck only the group or groups you want to hide. When you tap the "Contacts" app, you won't find the contacts from groups you've restricted, unless they're duplicated in other groups.
Hide Contacts Using a Third-Party App
Step
Download and install one of several apps available from the App Store that can store contacts, data and media within password-protected folders, such as CoverMe (see Resources). Open the app, enter the password you established during the installation, and then tap "Sign In."
Step
Touch "Friends," followed by "Contacts." If you didn't previously allow this app to access your iPhone contacts, do so when prompted. Alternatively, tap "Settings," select "Privacy," tap "Contacts," and then toggle the "CoverMe" switch to the On position.
Step
Tap "Add Private Contact," and then choose "Import From Contacts."
Step
Select the contacts you wish to hide, and then tap the check mark symbol. On the Move Contacts screen, choose "Yes" to retain their original records in the Contacts app. Alternatively, tap "No" to delete them for maximum concealment.