MacBook is Apple's consumer line of laptop computers, and the models from 2009 and 2010 come with a mini-DVI port. With this port and the necessary video cable, you can connect your MacBook to a digital projector. Once you have established the connection between the MacBook and the projector, the displays on both devices will be synchronized so that the content on the MacBook's screen will appear in the projector's image.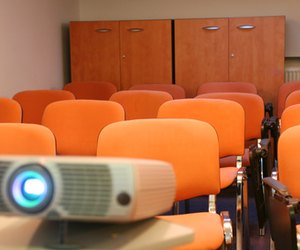 Step
Make sure both the projector and the MacBook are connected to a power source and powered on.
Step
Plug the mini-DVI adapter into the appropriate port on the side of your MacBook.
Step
Connect one end of the VGA cable to the mini-DVI adapter and the other end to the VGA port on the projector.
Step
Click on the apple icon in the upper-left corner of the MacBook's screen and select "System Preferences."
Step
Go to the "Displays" control panel under the "Hardware" heading.
Step
Click on the "Detect Displays" button to synchronize the images on the MacBook and the projector. If the MacBook's image does not appear on the projector, you may need to press the "Source" button on the projector until you get to the "VGA" or "Computer" option.