One of the biggest benefits of the Apple iPhone is the ability to receive email messages just as though you were sitting at your home computer. An iPhone can be configured to fetch email from just about any service that offers POP3 or IMAP capability. Configuring your iPhone to receive your email is a simple process that takes only a few moments. By default, email boxes are configured to display only the 50 most recent messages. You can easily update this setting to allow more email messages to be displayed at a time.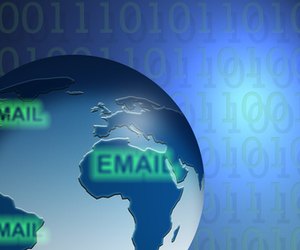 Step
Turn your iPhone on and move the slider across the screen with your finger to unlock the phone. If you have enabled a passcode, you will need to enter it now.
Step
Tap "Settings" on your iPhone display. It looks like a small cluster of grey gears.
Step
Tap "Mail, Contacts, Calendars". Under mail, the first category is "Show". The number of messages that are currently being displayed on your phone is indicated there.
Step
Tap "Show." This will bring up a list of choices, ranging from 25 to 200 recent messages.
Step
Select the number of messages that you wish to display by tapping it, and then tap the blue arrow shape with the word "Mail" in it at the top left-hand of the screen.
Step
Tap the blue arrow shape with the word "Settings" in it at the top left-hand of the screen.
Step
Press the small round button below the iPhone screen to exit out of settings. Your preferences have now been updated.