Gmail is an email program powered by Google that gives users an email address at gmail.com. However, the Business Gmail account allows users to use their own domain name for their business email while using Gmail's server, which means the business owners do not have to do any troubleshooting or hosting to maintain the email account. Each employee with a Business Gmail account gets 25 GB of storage for his email.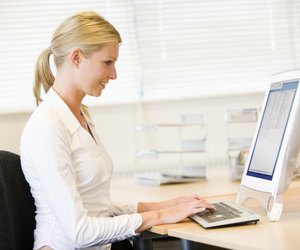 credit: BananaStock/BananaStock/Getty Images
Step
Go to your Gmail Business email page. It should have your business' domain name at the top of the page.
Step
Click "Sign In" in the right corner of the page.
Step
Input your user name and password for the Gmail Business account. Your user name will be your Gmail Business email address without the "@mybusiness.com" at the end of it. "Mybusiness.com" will be replaced by your business' domain name.
Step
Click "Sign In."