Constant phone calls can drive you mad if you're trying to concentrate on work or putting your feet up and relaxing. You can turn your cell phone off, but your landline will ring a fair number of times before it diverts to your voicemail service. If you want some peace and quiet, or are trying to avoid speaking to somebody, you can route calls to your landline straight to a voicemail service.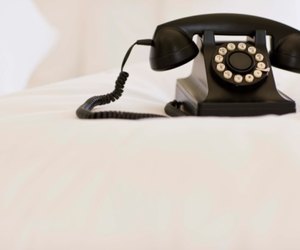 Step
Contact your phone line provider. You should be able to find their number on any correspondence they have sent to you or online.
Step
Inquire about setting up a call forwarding service on your landline. Some providers charge a monthly fee for providing this service while others will bill you for the cost of forwarding each call.
Step
Set up a call forwarding service on your landline to a cell phone with a voicemail feature that you can leave turned off except for when you want to access messages. Calls to your landline will then be rerouted to your cell phone's voicemail.
Step
Turn your cell phone on intermittently to check for messages.