In the event of the death of a user on Facebook, friends or family can request to memorialize the deceased's Facebook page. When Facebook memorializes a page, the company removes any sensitive information about the user, the page's settings are set to private and friends and family can post remembrances on the page. Keep in mind that you must establish proof of death to Facebook in order to memorialize a page. In addition to this, you also can create a memorial group with customized privacy settings.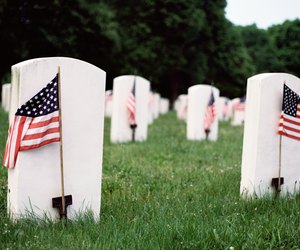 Memorial Group Page
Step
Sign in to your Facebook account on your PC.
Step
Click "Create Group" on the left side of your profile page and click "Create New Group."
Step
Enter the group's name, invite members and set the group's privacy.
Step
Click "Create" to create your memorial group.
Memorialzation of Facebook Page
Step
Open the "Account" menu and click "Help" from the drop-down menu.
Step
Type "Memorialization" in the search field and click the "How Do I Report a Deceased Person or an Account That Needs to be Memoralized."
Step
Click "Contact Us" and fill out the Memorialization Request form.
Step
Click "Send" to submit the form to Facebook staff. If the request is valid, Facebook will memorialize the page.