Internet speeds depend on the bandwidth capabilities of your network, your Internet service, as well as what's happening with your computer. Software downloads and OS X updates can hamstring your Mac's ability to serve video streams or to download a specific file you really need now.
Disabling Automatic Software Downloads
Step 1
Click the Apple menu and select System Preferences. Select App Store.
Step 2
Click the check boxes beside Download Newly Available Updates in the Background and Automatically Download Apps Purchased on Other Macs to disable these options. When Apple has new updates available for your Mac, it will send you an on-screen notification and prompt you to download them, which you can do at your convenience.
Warning
The check box beside Install System Data Files and Security Updates should be enabled because it protects your Mac from security threats.
Step 3
Close all of your open programs and then restart the Mac. This ensures that any programs or background processes are disconnected from the Internet. Once the Mac restarts, open only the program you need to access your desired online content.
Checking Your Network
Step 1: Check Your Wi-Fi Signal
Click the Wi-Fi indicator on the desktop and make sure you are connected to your preferred network. The more bars displayed in the Wi-Fi icon, the stronger its signal. If your preferred network's speed is low, move your Mac or move the Wi-Fi router closer to each other. For best results, there should be a direct line of sight between them.
Tip
If you can't get a strong Wi-Fi signal, consider connecting your Mac directly to the router using an Ethernet cable.
Step 2: Check Your Internet Speed
Step 3: Check Your Router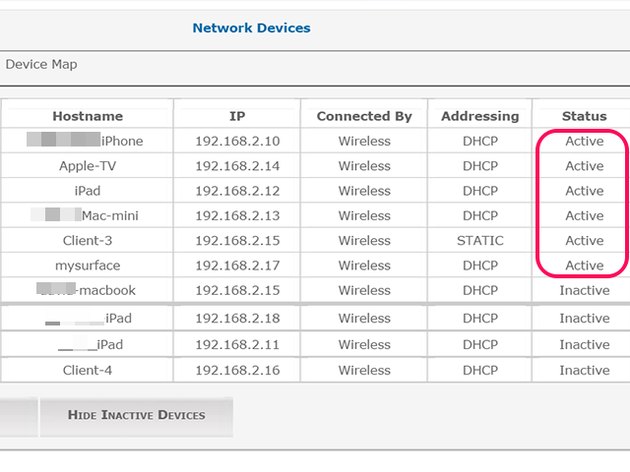 Log in to your router's admin panel using its admin username and password. You can do this on most routers by typing its IP address directly in the address bar of any Web browser connected to the network.
Go into the Network Settings to see what devices are currently connected to the Network. For example, you may have another computer, a tablet or a smart TV that is streaming video that you forgot about. If you see devices connected to your network that you don't recognize, change your Wi-Fi password.
Tip
Many routers allow you to dedicate more bandwidth to specific games and applications. You may also be able to monitor router traffic, depending on the router model.