How to Make File Folder Labels in MS Word 2007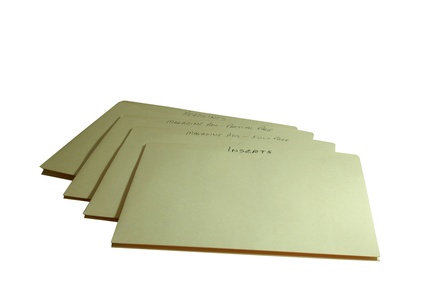 If you want to create labels for your file folders, you can do so with Microsoft Word 2007. Word has label templates for many different folders.
Step 1
Open a new Microsoft Word document and click the "Mailings" tab from the ribbon at the top of the page.
Step 2
Click the "Labels" button from the "Create" section. You can create labels for many different objects, including envelopes, CDs, and file folders here.
Step 3
Click the "Options" button when the "Labels" box opens.
Step 4
Select the vendor for your file folder from the list. For example, if the file folder was made by Office Depot, select Office Depot from the list.
Step 5
Scroll through the product number options and select "File Folder" from the list. Click "OK."
Step 6
Choose whether you want a single file folder label or a page of labels and click "Print" to print off your labels.
Tips & Warnings
If you can't find the correct vendor for your folder, try a label template from a different vendor. Most file folder labels are close to the same size (.67 inches by 3.5 inches), so you should be able to find one that works for your folder.
References & Resources