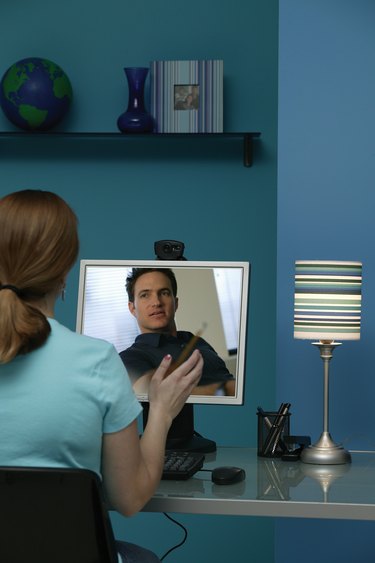 You can make money chatting online when you join a chat service that pays. Video-chat, video sharing, get-paid chat programs and forums are several ways that you can make money at home in your spare time. Video-chat websites allow you to choose either a one-way video chat or a cam-to-cam video chat with other members. Other types of chat services require you to create an account with them and post quality content on their websites.
Step 1
Go to a chat or video-chat website that will pay you for each per-click action made from their members. Click the "Sign Up" button and complete the required information on the application form. Make certain you have a valid government-issued picture ID, such as your driver's license or passport. You'll also need a webcam or compatible video camera recorder when you're signing up with a video-chat service.
Step 2
Use video-sharing networks to make money from ad revenues. Websites like MetaCafe.com will pay you $5 each time your video is viewed 1,000 times, at the time of publication. To upload your videos on the website's server, you will need to register an account with them. Click on the "Upload" button located on the homepage. Provide your personal information in the appropriate text fields, and press the "Create Account" button when you're done.
Step 3
Join other types of get-paid-to-chat services. MyLot.com and Yuwie.com will help you make money from chatting online with your friends, posting comments and referrals. Make even more money when you upload your photos and videos on the websites. Yuwie will pay you 50 cents per 1,000 views for photos and videos. MyLot will pay you 25 percent of referral earnings each month.
Step 4
Get paid forum posting jobs can also help you to make money and boost your income. Create a user account on websites like EarningPalace.com, ForumBooster.net, Money-Forum.org and PaidForumPosting.com. The pay rate for each post that you make on various paying forums can vary. Many paying forums have strict guidelines that you must follow. To get paid for each post that you make, they will only accept high-quality content without spam.
Step 5
Take surveys, answer questions and product testing are other ways that you can make money from chatting online. KnowBrainers.com, SurveryCompare.net, CashCrate.com and SwagBucks.com are various types of chat services that you can consider using to make some extra cash. You can also earn free items like electronics, video games, gift cards and all kinds of prizes too.