A luau is a creative way to have a summer party. Hawaiian food, drinks and decorations help to keep the event festive. People stand around fire pits while wearing grass skirts and drinking coconut-flavored drinks. The most important part of your luau is the invitations because they alert people of the event and get them there. Save some of your party budget and create your luau invitations at home for free. You can a word process program, a desktop publishing application or create them online.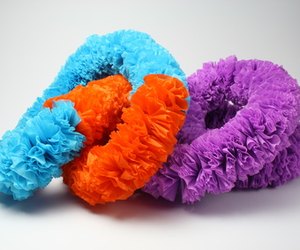 Using Word
Step
Open up Microsoft Word and start a new document. Click on "File > New" if using Word 2003 or earlier, or "Office button > New" if using Word 2007. A list of templates open.
Step
Click on the "Invitations" category and then "Party Invitations." Choose the "Tropical" invitation because the design closely fits the design of a luau. Click the design and then click "Download."
Step
Customize the wording for the invitation by clicking on an area and adding the wording for your luau. Add the date, time and RSVP information for the luau. When you are finished, save or print the invitations by clicking on the "Print" or "Save" icon on the toolbar.
Using Publisher
Step
Open Microsoft Publisher. Click "File > New" to start a new publication based on a template.
Step
Click on "Invitation Cards" in the category column. Click on one of the several designs under the "Themed Invitations" section and click "Download." The template opens with a customization pane on the left side.
Step
Click on different links in the customization pane to change that aspect of the invitation. Click on "Color Scheme" to change the colors of the images and text. Click on "Text" to change the text of the invitation. Print the invitations by clicking on the "Print" icon on the Standard toolbar.
Online
Step
Go to the Hoover Web Design website. See the page for the list of luau invitations (see Resource section for a link). The Hoover Web Design has free invitation templates that you can download and print.
Step
Click on the design that you want. It will open as a PDF document.
Step
Click the "Print" icon on the toolbar. When you have printed out all of the invitations, write in the detail's for the luau on the pre-formatted line.