If you live in a bad neighborhood or just want some added protection, installing extra security measures may be a wise idea. While you can have security bars installed on your windows for you, if you have some ability to build things, you can make your own. Once completed, your windows and your home will be protected from intruders, allowing you to sleep a little more soundly at night.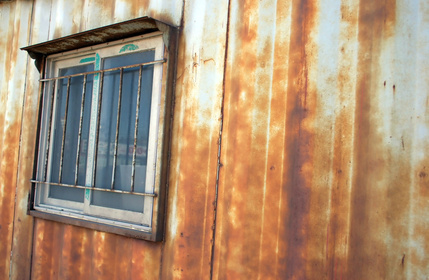 Step
Take measurements of each window you will be installing security bars on. You will need the height and width of each.
Step
Cut to size two pieces of flat bar that are 1/2 inch by 2 inches for each of the windows you will add bars to. Make marks with a marker 1 inch in from both ends of the flat bar you cut. From each mark, measure out and place a mark about every 3 inches. This will be the rod placement. For instance, if you have a 32-inch window flat bar, after placing the marks on ether end, spacing the center marks 3 inches apart, divide that by 30 (32 less two inches) to get 10. You now know you will need 10 rods for the center and two on the ends of this window so you will have 12 rods all together.
Step
Mark out the holes on the flat bars that will be made to mount the security bars. The mounting holes should be placed about 2 1/2 inches from both ends as well as one in the center.
Step
Cut a hole at the marks made for the rods with a power drill, using a 9/16-inch drill bit. Replace the bit 9/16-inch bit with a 1/4-inch bit and and drill out the holes for the mounting locations.
Step
Secure the rods and cut them 1/2-inch shorter than the height of the window opening. Fit the rods into the flat bar sections. Make sure that once all the rods are in place, the frame is level and squared. Weld the rods into place.
Step
Fit the window bars into the opening of the window onto which you will be installing. Use 3-inch wood screws and drill into place at each of the mounting holes. Fill the mounting holes with an outdoor silicone sealant. This will help with protecting the screws but also can be removed later if needed.