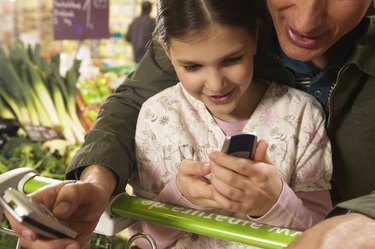 Many children and teens have cellphones these days, but they still depend on their parents to learn discernment and stay safe. Monitor your child's text messages to make sure she's not engaging in the wrong kind of communications or activities. Learning how to monitor your child's text messages is something every parent should know how to do. This helps ensure that your child is being appropriate, and most importantly, that she's not communicating with someone she should not be talking to.
Step 1
Use a text monitoring service. These services allow parents to read their child's text messages and even see the pictures and videos their kids are sending and receiving. You can try My Mobile Watchdog, which records text messages sent and received from your child's phone and allows you to review and print them. Mobile Spy is an application installed onto the phone that remains undetected by your child. The data is then silently uploaded to your Mobile Spy account.
Step 2
You can also check with your cellphone company to see what options for text monitoring they offer. Your phone company will also be able to provide you with full text transcripts if you feel that's necessary.
Step 3
Don't feel guilty for monitoring your child's text messages. If your child has a cellphone, chances are she has a life you know nothing about. So don't get kept out of the loop of what's going on in your child's life.