How to Open Windows Picture Viewer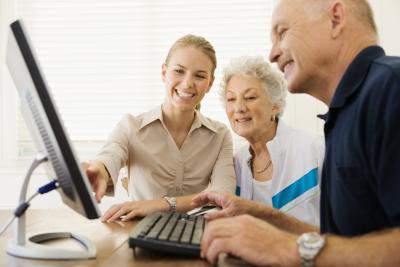 Computer users who are running computer systems with the Windows XP operating system have a built-in picture-viewing program called "Windows Picture and Fax Viewer." This is an application that allows viewing, printing, saving or deleting without the need for opening another program to edit images. When you store photos in the "My Pictures" folder, these photos will automatically open with the Windows Picture Viewer program when you double click on them.
Things You'll Need
PC with Windows XP operating system
Step 1
Navigate to the "My Pictures" folder on your hard drive.
Step 2
Open a photo file within the "My Pictures" folder by double clicking it. Browse through the images within the folder and highlight a photo you wish to open.
Step 3
Double-click on the photo to open the photo with Windows Picture Viewer. Once you have the photo open you can change the preview size, print the photo, rename the photo, delete the photo, rotate the photo or even begin to make a slide show with a group of photos.
Tips & Warnings
To open photos that are not in your "My Pictures" folder with Windows Picture Viewer, right-click on an image and select "Open With." Select "Windows Picture Viewer" from the options presented to you that you could use to open the photo.
The Windows Vista operating system replaced Windows Picture and Fax Viewer with Windows Photo Gallery. The Windows 7 operating system replaced Windows Photo Gallery with Windows Live Photo Gallery.
References & Resources