Pinging is a simple method of testing whether a computer is able to transfer data over a network. It works on a call-and-response basis. You send several data packets to a second computer, and if the second computer and the network are operating as they should, the second computer sends the packets right back. This can be handy when you are trying to troubleshoot whether slow data transfer is due to the computer or due to the network. Pinging also gives you IP addresses for websites, which is useful for additional network testing.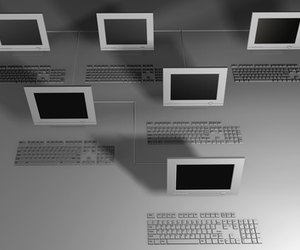 Step
Click the "Start" menu.
Step
Type "CMD" in the "Start Search" box and press "Enter." Select "Run" before typing in "CMD" if running XP. Alternatively, select "All Programs," "Accessories," "Command Prompt."
Step
Type "ping" followed by the IP address of the computer. For instance, if pinging a computer with an IP of 432.0.0.1, you would type "ping 432.0.0.1"--do not type the quotes. If you do not know the IP address of the computer but know a website associated with the server, type the web address instead of the IP, such as "ping www.somesiteimpinging.com." The ping will give you the IP address associated with the website server if you need it.
Step
Look in the Command Prompt window for the ping response. The data should indicate how fast data packets were sent back to your computer from the remote computer. It also indicates how many packets out of all the packets sent made it back, which can give you clues as to possible data loss.