Want to use your own website and your own web space to display a Blogger blog? Just tell Blogger where to publish by FTP and you're blogging.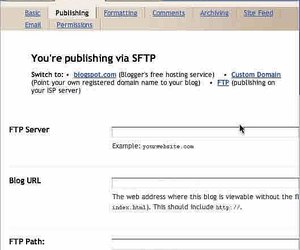 Things You'll Need
Personal website
FTP information from personal website
Directory for blog on the website
Blogger account
Give Blogger the FTP information
Step
Add a new directory to your existing website. This will be the place where Blogger sends your blog posts.
Step
Sign in to Blogger.
Step
Go to the Settings > Publishing page for your blog.
Step
Select the option to publish to a Custom Domain.
Step
Fill in the form fields asking for FTP server, Blog URL and FTP path with the information for your website.The blog URL will use the new directory name you have ready, such as www.mysite.com/blogname/. The FTP path will be exactly like the one you use for your site, except the new directory name will be included. It might look something like this: public_html/blogname/.
Step
Decide what filename you want for the main page of the blog. A good choice is index.html.
Step
Decide on the feed filename. If you're using Blogger's feed, this will probably be atom.xml.
Step
Finally, give Blogger the username and FTP password for your web site.
Step
Click Save Settings. Publish your blog to the new location on your own web site.
Tips & Warnings
Have your site information handy. You'll need FTP information, username and password.
Choose a name for your blog and for the directory in your URL (yoursite.com/blogname/) that is meaningful and will give helpful information to the search engines and your readers.