SD cards are flash memory cards that allow you to store digital files. Because they are tiny, micro SD cards are used in cell phones and MP3 players, where size is at a premium. Write protection is handled differently in micro SD cards than in standard SD cards—there is no mechanical sliding tab to show write protection status on the card.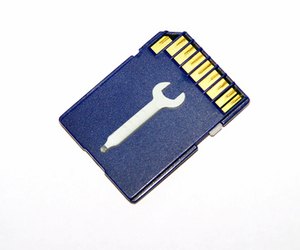 Step
Plug the micro SD adapter into your computer or other device. Adapters are fairly cheap—generally under $10 as of March 2010—and can be bought at any store that sells micro SD cards.
Step
Insert the micro SD card into the slot of the adapter. The adapter is built so that there's only one way the micro SD card can be slid into the slot.
Step
Move the tab on the adapter (it's usually at the upper left edge) that says Lock or Unlock; this will move the small plate on the micro SD card itself to expose the contacts needed to make the electrical connection.