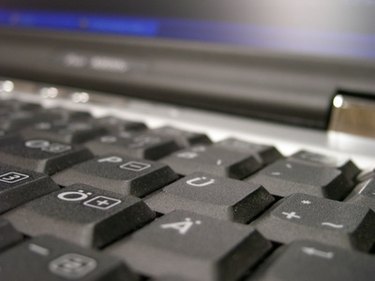 Dell designed the Latitude D620 with the high-performance mobile user in mind, giving the laptop a bigger screen, faster processor and longer-lasting battery than its Latitude predecessors. The computer has a built-in restore service that wipes the hard drive clean and resets all of the laptop's settings and software programs to its original factory defaults. You may wish to run the restore process if your programs and files become corrupted or if you plan to give the laptop to someone else.
Step 1
Shut down the Dell Latitude D620 if it's currently powered on. Click "Start" in the left-hand corner of the screen to access Windows' shut down options. Alternatively, press and hold the Latitude's power button, located on the top edge of the laptop's keyboard.
Step 2
Turn on the computer by pressing the laptop's power button.
Step 3
Press and hold "F8" on the top of the laptop's keyboard immediately after turning the computer on. If the Windows logo appears on the screen, you're too late and must repeat Steps 1 through 3 again. If you pressed it in time, a list of text options will appear on the screen.
Step 4
Use your keyboard's arrow keys to scroll down to "Repair Your Computer." Push the "Enter" key on your keyboard.
Step 5
Choose a language from the next list and select "Next." If you've password-protected your laptop, you will be prompted to enter your username and password at this time.
Step 6
Press "Dell Factory Image Restore." A new window will appear. Click "Next" and select the option for reformatting the hard drive and restoring the factory condition of the laptop.
Step 7
Push "Next." The Dell Latitude D620 will now be restored and returned to its original factory settings, complete with all the original software settings and pre-installed programs. This process may take several minutes.
Tip
Contact Dell's technical support line at 877-293-1197 if you need assistance during the restore process. Technicians are available 24 hours a day and seven days a week.
Warning
Restoring your Latitude D620 will delete all of the files on your computer. There will be no way to revert this restoration process. Backup anything you wish to keep before initiating the restore process.