Chance encounters and random conversations with persons you in all likelihood will never meet again is the philosophy behind ChatRoulette. Steadily increasing in popularity and features since its introduction in November 2009, a personal computer, webcam and microphone are all you need to connect and use ChatRoulette free of charge. Although prior to September 2011, saving conversations for later retrieval was not available, settings now allow you to save conversations using Adobe Flash Player local storage, and then retrieve and review conversations at a later point in time.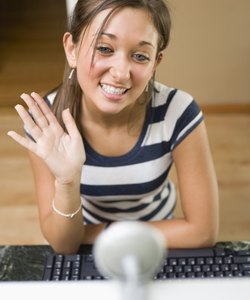 credit: Thinkstock Images/Comstock/Getty Images
Step
Open ChatRoulette and before connecting, click the "Settings" tab on the upper right side of the menu bar.
Step
Click the "Devices" tab if, when the Settings windows opens, it is not the default window.
Step
Click the "Camera and mic privacy settings" button.
Step
Click the folder icon to open Adobe Flash Player local storage settings. Click on the slider to set a storage limit for conversations of between 10 and unlimited kilobytes and close the message box when you finish.
Step
Connect to ChatRoulette and conduct conversations as normal.
Step
Retrieve and view a past conversation by clicking the "History" button at the upper-right of the chat window.