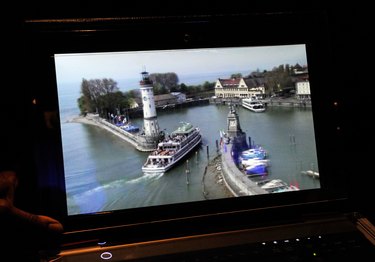 Scanning a document to a Toshiba laptop can be tricky if you've never done it before. Luckily, all Toshiba laptops use the Windows operating system by default. While many tasks on your Toshiba laptop vary from model to model, document scanning has been standardized by Microsoft through the Windows platform. With standardized scanning, it will be relatively simple for you to repeatedly scan items into your Toshiba laptop after you've learned how to perform your first document scan. By following a few simple steps, you can scan any document in just a minute or two.
Step 1
Turn on your computer and log on to Windows.
Step 2
Insert your scanner's USB cable into an open USB port on your Toshiba laptop as soon as Windows has finished booting up.
Step 3
Wait a moment while your Toshiba laptop automatically detects the scanner and installs any necessary drivers. While the driver installation process is usually automatic, in some cases you will need to click "Next" or "OK" through a series of installation prompts.
Step 4
Click on the Windows "Start Menu" after a message appears in the lower right corner of the screen indicating that the drivers have installed and the scanner is now ready for use.
Step 5
Click "All Programs" to view a listing of all the software currently installed on your Toshiba laptop.
Step 6
Select "Windows Photo Gallery" by clicking on it. Even though you're scanning a document and not a photo, the best way to perform any high-resolution scan is with Windows Photo Gallery. According to Microsoft.com, the Microsoft Office "Form Scanner" is no longer available, and you must scan documents independently of Microsoft's popular word processing software. The Photo Gallery is typically included uniformly in XP, Vista and Windows 7, and it provides easy access to necessary independent scanning functionality.
Step 7
Click "File" once the Windows Photo Gallery has finished loading. The "File" button is located near the top left corner of the screen, indicated with an icon resembling a piece of paper.
Step 8
Click "Import From Camera or Scanner." A new window will pop up that displays all available scanners, cameras and other imaging devices.
Step 9
Select your scanner by clicking it from the list of available imaging devices. The scanner is typically identified with a label containing the brand name followed by the model number of your specific scanner. Click "Import" once you've selected your scanner. A new window entitled "New Scan" will open.
Step 10
Click on the drop-down menu labeled "Profile" near the top of the "New Scan" window. By default, the profile will usually be set to "Photo." Select "Documents" from the list of available profile options.
Step 11
Click the "Scan" button located near the bottom right side of the "New Scan" window. A progress bar will appear, allowing you to monitor the progress of the scan. Once the scan has completed, your newly scanned document will appear within a subfolder of your Toshiba laptop's "Picture" folder. The subfolder will be named after the current date and the document will usually be labeled "01."