Emails are forever. And they're are also very vulnerable.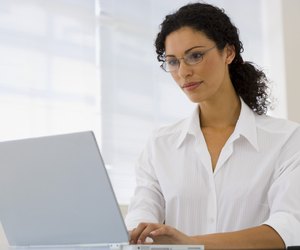 credit: Jupiterimages/Pixland/Getty Images
Because of the ease with which hackers and eavesdroppers can capture the clear text of emails, there's a need to ensure that only the intended participants in a conversation can read the messages.
By using mathematics, encryption programs scramble email text in a way that prevents it from being read by anyone but the intended recipient. With their magic under the hood, they work with the click of a mouse button. And you can use them for free.
Hushmail is the fastest way to start. PGP has a few more steps, but will also let you encrypt large email attachments.
The Simplest Way: Hushmail
Step
Go to hushmail.com and click the "sign up" link at the top right of the page.
Step
Choose your new Hushmail username (this will become your secure email address: username@hushmail.com) and complete the sign-up process.
Once you sign in with your username, you can send secure messages.
Step
Ask the person with whom you want to email securely to set up their own Hushmail address. Once that's done, all emails sent between the two Hushmail addresses will be encrypted every step of the way between whatever two computers you're using.
Step
If the person you're emailing doesn't want a Hushmail account, you can send a message to his regular non-Hushmail account.
Step
When a Hushmail message is sent to a non-Hushmail recipient, the sender needs to set up a challenge question that the recipient must correctly answer before the email text is displayed. The question should be one that only the intended recipient can answer correctly.
The Classic Way: 'Pretty Good Privacy' (PGP)
Step
Download and install the free Thunderbird email program from GetThunderbird.com. (Make sure you enter your correct e-mail server addresses, account name and password during Thunderbird setup.)
Step
The free, open-source version of PGP is called "GPG." Depending on your operating system, download and install GPG4Win (for Windows), MacGPG (for Mac) or GnuPG (for Linux).
Step
When you run the program for the first time, you'll need to create your certificate, or "key" (the unique random series of characters that determines exactly how your email will be encrypted). Your key has two parts: the private key and the public key.
(Don't worry: you won't need to memorize either one.)
Step
Put the private key file in a folder on your hard drive, and make at least one backup copy that's kept elsewhere. Guard your private key from being accessed by others. Your private key is the ONLY way you can read files and messages that were encrypted just for you. (Your private key file will be protected by a password you choose.)
Step
Share your public key with the people from whom you'd like to receive secure email. You can do this by "publishing" your public key to a keyserver (a searchable online directory of people's public keys), or just sending a copy of your public key to those people with whom you'd like to exchange secure emails.
Step
Download and install the Enigmail plugin for Thunderbird, which will help you automate the encryption process.