OpenCart is an open source and free web commerce framework. There is a large community of users, contributors and developers to this software which makes it an ideal choice for use with your web commerce site. There is an active user forum community as well, which is helpful to resolve any questions you may have while you are maintaining your website and there are plenty of plugins to add functionality as well. All of these can be found quickly from the OpenCart website. Installing is mostly automated for you and will not require much interaction to get the basic framework running quickly. Despite the relative ease of installation, it is highly recommended that you carefully read all the steps involved before you start. This way, you have a clear idea of the general sequence of events to be sure you are not caught off guard.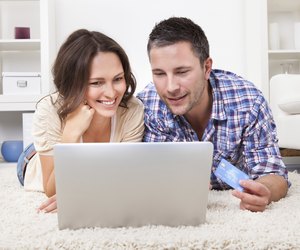 credit: AndreyPopov/iStock/Getty Images
Step
Ensure you have a web-hosting plan that meets the system requirements of OpenCart. GoDaddy web hosting plans tend to change titles often for marketing reasons, but the features of the plans is the important thing. You will need a plan with a minimum of 1 MySQL database, at least 1 FTP account and also ensure you have enough bandwidth. If you expect your site to attract a lot of traffic then you may need to upgrade your account later, but that will not affect your OpenCart installation.
Step
Download the installation zip file from OpenCart to your computer. You do not have to unzip this file. You can upload the zip file directly to GoDaddy as is.
Step
Log in to your GoDaddy account. Click on the "Hosting & SSL" link in the top menu and another menu will appear. Click on "Manage Your Hosting."
Step
Click the "Manage" button next to the web domain you want to install OpenCart into. You will only see one domain name here if you only have one website.
Step
Click on the "MySQL" icon, usually located at the bottom of the screen. This will launch the interface to create a database, which is required for OpenCart. Click the "Add" button, then enter a friendly name for your database. Enter a real database name and a password in the appropriate fields. Make sure you write this information down because you will need the database name and password later. The database name becomes a username for the installation in a later step. Click "OK" and then "Close." Wait a few minutes for the server to create the database. Click the MySQL button again to ensure the status indicates "Setup." If it does not say this, wait a little longer. Click "phpAdmin" when it says "Setup," and enter the username and password. When you see the database administration screen copy down the IP address next to "Sever" in the top section. You can close this tab when you are done.
Step
Click "File Manager" in the "Tools" section. Click "Upload" and then "Add File" and navigate to the location of the OpenCart installer package you downloaded in step 2. Click "Open" and the installer will begin uploading.
Step
Right-click on the installer file in the file manager view and select "Extract." Ensure "webroot" is high lighted in green, which is the default option. After the file is extracted, click on the new opencart directory and then click into the "upload" directory. Select each file and folder by clicking the check-box next to each item. Click "Move" in the menu, highlight "webroot" and click "OK." This will move all the OpenCart files to your website root directory.
Step
Open another browser window or tab and enter your website's domain name. You should now see the OpenCart installation screen. Click "Continue" on this screen.
Step
Enter the IP address you copied in step 5 into the "Database host" field. Then enter your database name from step 5 in both the "Database name" and "User" fields. Enter the password from step 5 as well. Delete any characters in the "Database Prefix" field, this is important. Enter an administrator username, password and email address in the administration section. It is best not to keep the default username as "admin" since this is too well known and may open your site to a hacking attempt. It is best to write down the settings you choose in this section before clicking "Continue."
Step
Go back to the GoDaddy "File Manager" tab in your browser and navigate to webroot. Select the "install" directory by clicking the check-box, then click "Delete." This will delete the installation scripts and keep your site more secure from hacking. Your site is now running OpenCart.