Signing up for an MSN email account is a simple process that should take only a few minutes to complete. MSN offers free email service to customers who wish to use them for their email client. You can send, receive and compose emails from anywhere using its intuitive software design. While signing up for an account may sound like a difficult task, it is actually quite simple if you follow the proper instructions.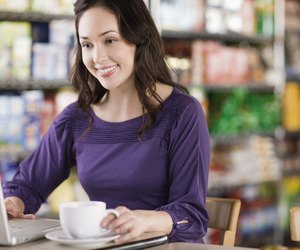 credit: Jupiterimages/Brand X Pictures/Getty Images
Step
Open up your web browser and type the following web address into the taskbar at the top of the page: "https://accountservices.passport.net/reg.srf?ns=msn.com&sl=1&lc=1033." This web page will bring you to the MSN email setup page.
Step
Enter the email address and password you would like to be associated with the account. When you type in a prospective name, the software will tell you if that name is still available. If the name is already taken, you can adjust it by adding additional letters and numbers until the address is free.
Step
Select a security question and answer you want to be associated with your account. The security question will be asked on occasion to verify that you are the rightful owner of the account. Make sure that your question and answer are something you will always be able to answer. Not answering the question correctly will lock you out of your account.
Step
Type the characters that you see on screen in the security window at the bottom of the screen. Once the characters have been entered, click the "Continue" button. Your new email account will be created.