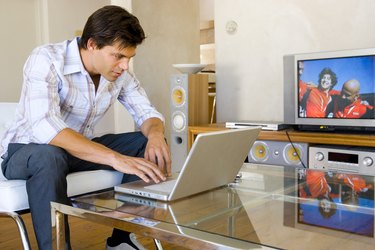 The Adobe Photoshop software allows you to work on editing and changing your digital photos, allowing you to transform your pictures to achieve a look uncapturable by a camera. While you could work for days to set up an ideal shot, Photoshop lets you get right in and make tweaks on-screen with a couple of clicks and just a few minutes' time. Take a photo from harsh angles to smooth edges with way less effort than positioning hot lighting and moving your subjects around by working directly on-screen in Photoshop.
Step 1
Open Photoshop, click the "File" menu and click "Open." Browse to a photo with edges to smooth and double-click the file name so the image opens in the Photoshop workspace.
Step 2
Click the "Magnifying" tool, which looks like a magnifying glass or lollipop on the bottom of the "Tools" palette on the left side of the screen. Zoom in on a sharp edge within the photo.
Step 3
Click the "Blur" tool, which looks like a raindrop on the "Tools" palette. If you do not see the raindrop, right-click the icon of a hollow triangle or a pointing finger. These three tools all share the same space until they are used. Select the "Blur Tool" from the right-click menu.
Step 4
Pull down the brush menu at the top of the screen; it is the second button from the left on the toolbar, though it is not labeled. Select a round, fuzzy brush and slide the brush size menu to about 50 pixels or a size to fit the edges in your image.
Step 5
Press and hold down your left mouse button and click and drag your cursor over the sharp edge in the photo. The edge begins to get smoother as it blurs. Drag over the edge just once to smooth it out; drag repeatedly over the edge to create a smoother but blurrier effect. The more times you drag over an edge, the blurrier it becomes.
Step 6
Smooth the edges in your entire picture by enlarging the size of your brush in the brush menu, such as 200 pixels, and dragging your cursor over the picture. All the edges become smooth.
Step 7
Click the "File" menu and click "Save As." Type a new name for the picture; don't save it with the same name as the original or you won't be able to access the non-smoothed version in the future.