Online gambling is considered the fastest growing Internet business worldwide with annual revenue estimated at $12 billion in 2008. Starting a gambling website to host gameplay is profitable and fun, but demanding. The site owner must not only understand how casinos work and how to play, but also understand international gambling and financial regulations. Both the gambler and site owner are advised to verify local, state and federal laws prior to participating in any type of online gambling. The steps outlined below contain information that needs to be considered prior to starting a gambling website.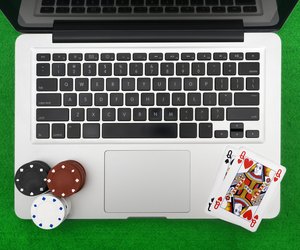 credit: chatsimo/iStock/Getty Images
Step
Hire an attorney to establish a corporation that will operate the gambling website. Current United States law does not permit American companies to own or operate online casinos or gambling sites. The attorney would need to establish a legitimate and viable international corporation in a country where the ownership and operation of gambling sites is allowed. An online casino license will need to be established in the name of the corporation. The corporation will also need to establish a bank account for fund transfers.
Step
Select a web host with the capability of providing high quality, secure and dedicated servers that will be able to comfortably accommodate your gambling website's traffic. This web host also may not be in the United States or any of its affiliated territories. Research a catchy, relevant domain name. Domain name selection will significantly affect your website's ability to be found by potential customers. Think of a unique name with a gambling-related term in its title. Once you have listed several choices, check with a domain provider, such as GoDaddy.com, to see if any are available. Register your final selection under the corporation's name.
Step
Determine the type of software that will best suit the needs of your gambling website. It will need to include popular features such as statistics, calculations, limit setups, tournament play, real-time chat, as well as the option to play with virtual or real money. The software should contain at least the standard Las Vegas casino games, including blackjack, bingo, poker, baccarat, roulette, craps, keno and slots.
Step
Once the software is selected, begin to develop the website's design. Plan content that will hold the potential customer's attention. Keep paragraphs and sentences short and to the point. Answer as many potential questions as possible. Provide a clearly labeled customer service section. Include a gaming advice section to keep customers returning to your site. Do not overload the site with graphics. If potential customers need to wait for a page to load, they will move on to the next gambling website.
Step
Finalize an agreement between your corporation and a reputable money transfer company. These companies act as a cashier for online casinos. The money transfer company should have the ability to accept deposits in a variety of currencies and payment methods, in addition to having the means to disburse funds quickly.