With the Apple iPhone, you can geo-tag pictures, set personal photos as wallpaper and even assign them to contacts. While the iPhone lets you share photos with friends and family through multimedia text messages and email, you may get more mileage out of your iPhone photos if you sync them with a computer. Syncing photos to a computer will allow you periodically erase older photos and clear up valuable storage space on your iPhone.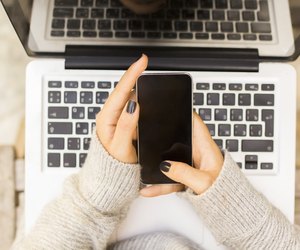 credit: peshkov/iStock/Getty Images
Step
Connect your iPhone to the computer you want to sync it with.
Step
Open "iTunes" if the program doesn't launch automatically.
Step
Follow the on-screen instructions to update your iPhone if iTunes prompts you to.
Step
Click on your iPhone under "Devices" to open the sync application.
Step
Click the "Photos" pane.
Step
Click the check box next to "Sync Photos From," then use the drop-down arrow to select the folder location for the sync.
Step
Click the "Sync" button.