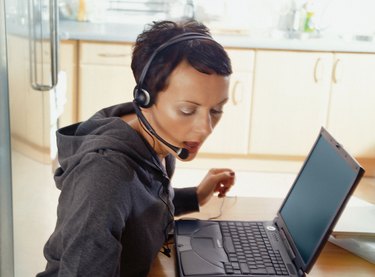 Just as it has a "speaker" through which it outputs sound, your computer has a "mic" (microphone) which allows it to record sound. In addition to the simple "Sound Recorder," you can use the microphone in applications like "Skype" and "Google Voice," which allow to speak to others via the Internet. If you don't want your microphone to pick up sounds you make, you can turn it off using Windows' "My Computer" menu.
Step 1
Open a "My Computer" window. Hit the "Start" button and scroll your mouse over the "My Computer" button. Click on it.
Step 2
Enter your "Control Panel." Click the "Change a Setting" option, which is located under the "System Tasks" pane.
Step 3
Turn off your microphone in the "Recording Control" dialog box. Double-click the "Sounds and Audio Devices" icon and navigate to the "Audio" tab. Click "Volume" under the "Sound Recording" pane, then tick the box next to the word "Mute" under "Mic Volume" in the "Recording Control" dialog box. Your mic is now turned off.