How to Update a NIC Driver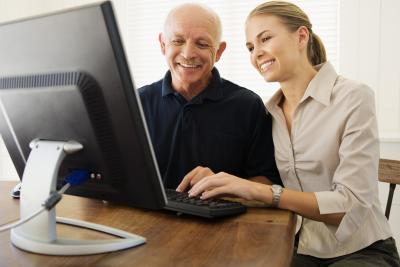 NIC stands for network interface card. This device allows for data communication from one computer to another. A computer connected to the Internet via a cable or broadband connection uses a NIC card to make that happen. A driver is software in your computer that provides instructions to the operating system, telling it how to run the device. The manufacturers, to keep up with the ever-changing IT world, continually create drivers that are more current. If you update your Windows operating system or just want the most current driver loaded onto your computer, you can update your NIC driver.
Step 1
Right-click on "My Computer," and select "Properties" from the menu that appears; it is the last item on the list. Access the "My Computer" icon on your desktop or from the Start menu.
Step 2
At the top of the System Properties window, click "Hardware."
Step 3
Click the "Device Manager" button.
Step 4
Click the plus sign for "Network Adapters." This shows the list of devices used for internet connections.
Step 5
Right-click on the network adapter and select "Update driver" from the menu that appears next to your cursor.
Step 6
Select "Yes, this time only" by clicking on the radio button. Click on "Next" to continue.
Step 7
Confirm "Install the software automatically" is checked. Click the "Next" button.
Step 8
Close the window after the process has run. If prompted to do so, reboot your computer.
Tips & Warnings
The best place to find an updated driver is at the manufacture's website. If you don't know who made your device, follow steps 1 through 4. Write down the name of your device, for instance it might say "Intel(R)PRO/1000." Intel Corporation made this device. Now you can go to the Intel Corporation website, and follow the instructions provided by them to update the driver.