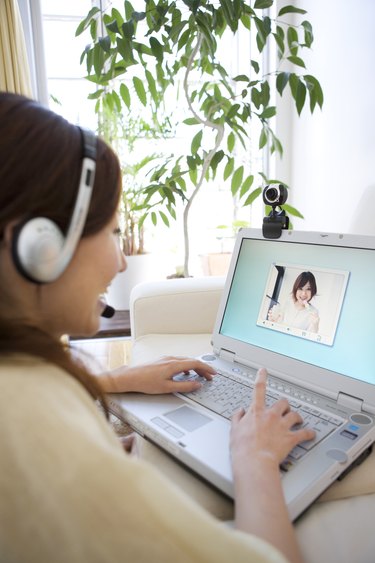 Use your webcam with Yahoo Messenger 11.5 to broadcast your webcam's video feed while instant messaging and to place free video calls over the Internet. You can configure your webcam using Yahoo Messenger Preferences. If you're having trouble using your webcam with Yahoo Messenger, verify your system requirements and test your settings with the Yahoo Video and Voice Setup assistant.
Adjusting Your Webcam Preferences
You can adjust your webcam preferences in the Yahoo Messenger Preferences window. Click "File" or "Messenger" and then click "Preferences." Select "Webcam" under the Category box to view your webcam preferences. Click "Camera Source…" to select a different webcam source. Click "Camera Settings…" to adjust your camera settings, including image size, brightness and contrast. Move the slider under "Broadcast My Webcam With" to adjust the quality of your broadcast. For example, place the slider in the middle to balance quality with speed.
Sharing Your Webcam
Click "Messenger" and then "My Webcam" to view a preview of your webcam. Click "Actions," "More Actions" and then "Invite to View My Webcam." Select the contact you want to share your webcam with under My Contacts -- or click the "Other Contact" tab, enter the person's Yahoo ID and then click "OK." Yahoo sends an invitation to your contact, and a conversation window appears when your contact accepts your invitation. Repeat the process to invite others to view your broadcast. You can request to view a contact's webcam by clicking "More Actions" and then "View Webcam."
Placing Video Calls
Click the "Actions" menu at the top of Yahoo Messenger and then "Start Video Call…" Select the person you want to call, or click "Other Contact" and enter his Yahoo ID, and then click the "OK" button. A conversation window opens with a preview of your webcam while you wait for your contact to answer the call. After your call is connected, your video is shared automatically with your contact. Alternatively, you can place a video call directly from a conversation by clicking the "Video Call" button at the top of the conversation window.
Verifying Webcam Requirements
Your computer's video card must have at least 96MB of memory and your system must have Microsoft DirectX version 9.0 or newer (link in Resources). Your webcam needs to be connected to the computer externally, or built-in, and compatible with one of the following image sizes: 160 pixels by 120 pixels, or 320 pixels by 240 pixels. Your webcam must support common image color formats, including RGB, I420 or IYUV. Consult your webcam's documentation or the manufacturer to determine if your webcam supports these specifications. Yahoo Messenger cannot access your webcam if your network uses proxy connections (unlikely for individuals; proxy servers are usually used by organizations).
Troubleshooting and Testing Your Webcam
Check that you have connected all required equipment to your computer, including your webcam, microphone and speakers, and that your system meets Yahoo's webcam requirements. If possible, install the latest version of Yahoo Messenger. Install your webcam's drivers from the manufacturer's website or installation disc. Yahoo can test your video and sound quality settings and optimize them for Messenger with the Yahoo Video and Voice Setup assistant. Click the "Help" menu button and then "Set Up Video and Voice." Follow the three-step process to test your computer's microphone, speakers and webcam settings.