Previously colored hair proves difficult to cover up, especially with semi-permanent and temporary colors. Fortunately, there are ways to achieve the cover-up you want. Knowing how to use semi-permanent dyes over pre-colored, processed hair allows you to experiment with different hair colors that don't last as long as permanent dyes. Whether you want a punky, over-the-top color or something that simply covers your roots and persistent gray hairs, semi-permanent hair color does the trick when used correctly.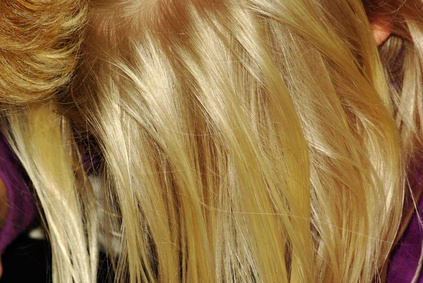 Step
Fill an 8-oz. hair applicator bottle with 4 oz. of the 40 volume hair developer cream.
Step
Hold the pouch of hair lightener powder away from your face and shake the packet. This forces the ultra-fine powder to the bottom of the pouch so you can open it safely. Tear open the package, holding it away from your face.
Step
Empty the contents of the pouch into the bottle containing the cream developer. Secure the lid tightly and shake it for about 1 minute, or until the powder completely disperses throughout the solution.
Step
Comb through your hair to remove knots and tangles. Separate your hair into four smaller sections.
Step
Apply the hair lightening cream to your hair, saturating through to the ends of your hair. Do not rub the cream into your scalp. Let the cream sit on your hair for 25 to 40 minutes, depending on the degree of lightening you want to achieve. This hair dye remover lifts the processed hair dye from your previously colored hair, leaving a blank canvas for the semi-permanent color.
Step
Rinse your hair thoroughly with warm water until the water running from your hair is clear with no traces of color. Dry your hair thoroughly.
Step
Add 4 oz. of developer cream to the second 8-oz. hair applicator bottle.
Step
Add the semi-permanent hair color of your choice to the applicator bottle. Secure the lid and shake the bottle vigorously until it's well mixed.
Step
Comb out knots and tangles. Separate your hair into four sections.
Step
Apply the semi-permanent hair dye to your hair, working from your tips to your roots. Make sure to fully saturate your hair. If you have very long hair, you may need to reapply another 8 oz. of the solution, mixing as needed. Depending on the brand of semi-permanent dye, you'll need to leave it on your hair for 25 to 40 minutes before rinsing out.