One of the best ways to evaluate the viability of a business model or to demonstrate the potential of your proposed business solution is to write a case study. A business case study is a snapshot of a company that shows how the business succeeded. You can use a strong case study to sell a product or service to a potential new client. It is also used to demonstrate what a business owner should and should not do based on real facts. Business schools use case studies to teach students about how to run, improve and evaluate a business. If you need to compile business case studies frequently, it would help to create a template.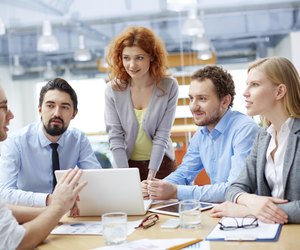 credit: shironosov/iStock/Getty Images
Step
Start the case study with a title and a quotation from either a customer or a company representative. For example, the title could be "XYZ Corp. Improves Earnings for company ABC by 50 Percent" and the quotation could be "XYZ's solution brought in new clients -- it is highly recommended." When developing your template just write "Case Title" in bold, large lettering at the top of the page and "Quotation" underneath -- italicized inside of quote marks -- for placeholders.
Step
Include a placeholder for a "Summary" on the next line of your case study template. In this section, you will include bullet points about the benefits that resulted from the company's solution. Benefits could include something such as "100 new clients" or "20 percent increase in market share."
Step
Tell the story in detail. Start with the challenge that the company had to overcome. Write "Challenge Presented:" on a new line. Be detailed about the specific challenge that the company faced. This section should be only a few sentences long.
Step
Talk about the solution that was proposed and implemented on the next line. Just write "Solution:" in your template. In this section you will discuss the specific resolution for that company and how the solution can help the industry as a whole. Keep this section to about a paragraph.
Step
End your business case with a more descriptive summary of the benefits and successes that resulted. You can call this section of your template "End Results." This section is what brings your "story" full circle so that the reader can see the entire picture of what happened in this particular case.