How to Write Something in a PDF File and Save It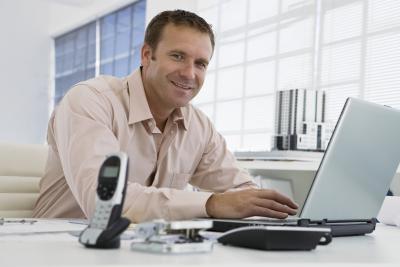 The PDF, or portable document format, is a cross-platform file format developed by Adobe, Inc. Before PDF became an open standard in 2008, the only way to write and save a PDF file was to use Adobe's Acrobat software. With the open-standard designation, new software and even websites have been introduced that allow users to write and save PDF files, in some cases free of charge.
Create PDF With Software
Step 1
Open your PDF-editing software. Go to the "File" menu and choose the "Create PDF" option to open any popular word processor or image file and convert it to PDF.
Step 2
Go to the "File" menu and select the "Open" command to browse to a location on your computer where your PDF file is located. Open the PDF file for editing. To modify or add text to your PDF files, click the text you would like to work on. Due to the structure of PDF documents, typically you are allowed to edit only one line of text at a time.
Step 3
Add pages to your PDF file if necessary. Go to "Document" in the toolbar and select the "Add Pages" command, then choose to insert your new page before or after your current page. When you have finished creating or editing your PDF files, go to the "File" menu and select "Save" to write a new PDF file.
Create PDF Online
Step 1
Select a website that allows you to upload and edit PDF files. These websites are particularly good for PDF web forms.
Step 2
Click the upload link and browse to the location on your computer where the PDF file you want to edit is located. Click the file to upload it to the PDF website.
Step 3
Select the edit PDF command from the website toolbar interface. This will turn your PDF file into a document you can make changes to directly in your browser. If you have a Word or image file you want to convert to PDF, use a website that does this type of conversion automatically.