The recommendations feature on the LinkedIn online business network allows members to recommend each other to other LinkedIn users. Each recommendation endorses the user's performance as an employee, coworker, contractor or business partner. LinkedIn asks you to accept the recommendation before it publishes the item on your profile page. If you or other contacts can't see your LinkedIn recommendations, you will need to change the visibility settings for the missing items.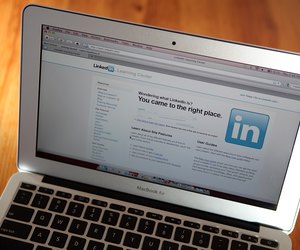 Recommendation Visibility Settings
Only your LinkedIn Connections -- the people in your network of LinkedIn contacts -- can view the recommendations you've received from other users. Users outside your network who visit your LinkedIn profile page see only the total number of recommendations that you've received in your profile information section. To see your recommendations, the user will have to you send a connection invitation. If you approve the connection, LinkedIn adds the user to your Connections network and he can view the recommendations that you've chosen to display.
Show Recommendations
If you or the people in your LinkedIn Connections network can't see some or all of the recommendations displayed on your LinkedIn profile page, you'll need to change the display settings for the recommendations feature. Click the "Profile" tab in the main LinkedIn menu, and then select "Recommendations" from the drop-down menu to view a list of your recommendations. Click the "Manage" link under the job title for which you've been recommended. For each recommendation, click the "Show" check box to display the recommendation on your profile. Click the "Save Changes" button to implement the changes.
Benefits
Once you've selected the "Show" option, you and your contacts should be able to see the recommendations on your profile page. Making your recommendations visible can help you get a new job or obtain new contracts, because potential employers can see how you've performed in the past. If you want more recommendations, you can ask your LinkedIn connections to provide you with a recommendation by clicking the "Request Recommendation" tab at the top of your Manage Recommendations page.
Considerations
Making your recommendations visible means that everyone in your LinkedIn Connections network can view the recommendation on your profile page. There's no profile setting that lets you hide a recommendation from a specific LinkedIn contact. The only way to stop another connection from seeing your recommendations is to remove the user from your Connections network. If you're applying to another LinkedIn contact for a staff job or a contractor position, you can hide irrelevant recommendations by clicking and deselecting the "Show" check box for that recommendation.