Synaptics makes multifunctional touchpads for a variety of laptop computers. If your touchpad won't scroll but will perform all of its other functions, your scrolling function was probably disabled through the software interface. Another possibility is that scrolling is enabled but the scrolling area was set too small to pick up your finger's motion. The exact location of the settings for the touchpad device vary according to your device model and operating system, but they can always be found under the "mouse properties" area in your control panel.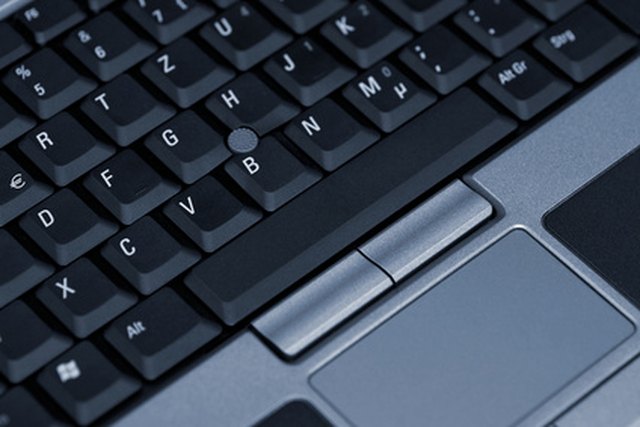 Step
Click "start," then "control panel," which may be under "settings" in older versions of Windows.
Step
Click "mouse." If this option isn't available, click "category" next to "view by" in the upper right corner of your control panel window and select large or small icons. "Mouse" should appear as an option in either of these configurations.
Step
Select the tab with the red Synaptics logo, usually labeled "device settings."
Step
Click the "settings" button, then click on the "plus" next to "scrolling." Select "one-finger scrolling" and make sure there are check marks in the boxes that enable horizontal and vertical scrolling.
Step
Click "apply," then click "two-finger scrolling" and enable the boxes there if you want two-finger scroll options.
Step
Click the "plus" next to "one-finger scrolling," then click on "scrolling region." Follow the on-screen instructions to resize the scrolling area, and then repeat the process for "two-finger scrolling" if that option is available.
Step
Click "OK" to save your changes and exit.
Step
Test your scrolling function by opening the program you were having trouble scrolling before and trying to scroll. If the scroller still doesn't work, you most likely need to download an update for your touchpad's driver, which is the software that controls the touchpad function.
Downloading a Driver Update
Step
Visit the website for your laptop's manufacturer, such as Dell, Toshiba or HP. Click on the "support" option.
Step
Enter your laptop's model type and number into the site's search box or select it from a drop-down list on the site, if available. You may need to click "product support" to view drop-down lists.
Step
Search within the results for a Synaptics driver update. If one is not available, you can download a generic update for the Synaptics Scrybe software, which controls modern touchpad interfaces, at uscrybe.com. Follow the on-screen prompts to download and install the driver upgrade.