Unlike photos or contacts, Apple doesn't offer a way to save text messages through iTunes. Text conversations are included in backups, but unless you are restoring the iPhone, they are inaccessible without third-party software. To quickly save short conversations, you can always take a screenshot, but for longer conversations, or multiple conversations with different contacts, third-party programs like Decipher Tools, MobileSyncBrowser and TouchCopy are your best options.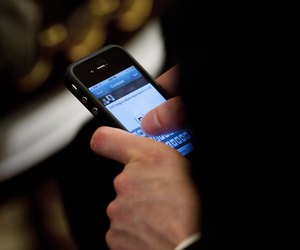 credit: Brendan Smialowski/Getty Images News/Getty Images
Using Screenshots
Step
Launch the Messages app on the iPhone and select the conversation you want to save. Scroll through the conversation so the portion you want to save is visible on the screen.
Step
Press and release the "Sleep/Wake" button and "Home" button simultaneously. The screen flashes and the iPhone makes a camera shutter sound, indicating the screenshot has been copied to your Camera Roll in the Photos app. Scroll to another place in the conversation and take another screenshot if needed.
Step
Launch the Photos app and select the message screenshot you just took. Tap the "Share" button and select "Print," "Email" or any other available option to export the screenshot.
Retrieving Conversations From Backups
Step
Download and install the latest version of Apple iTunes on your computer if you don't have it already.
Step
Connect the iPhone to your computer using the USB cable it came with. After iTunes recognizes the device, click the "File" menu. Select "Devices," followed by "Back Up." Although iTunes backs up your text messages, they can only be accessed on your computer using third-party software.
Step
Download and install third-party software such as DecipherTools or MobileSyncBrowser on your computer.
Step
Launch the software and select the iPhone backup. If you have more than one backup on the computer, you can use older backups to retrieve conversations deleted from the iPhone. Select a contact. Your text conversation with that contact is displayed, including photos.
Step
Click the "Export" button to save the conversation as an HTML or text file.
Saving Conversations Directly From an iPhone
Step
Download and install TouchCopy on your computer. Launch TouchCopy and then connect the iPhone to the computer using its USB cable. If you have iTunes installed, TouchCopy prevents it from opening automatically.
Step
Wait a few moments for TouchCopy to read the data on the iPhone. Music, notes and other data are displayed on the screen.
Step
Click the "SMS" button in the upper right corner of the window. TouchCopy extracts the SMS conversations from the iPhone.
Step
Select a contact to see the conversation you had with that person. Click the "Copy Selected Conversations" link. The conversation is saved to your computer as an HTML file and associated folder, including any photos sent in those conversations.