It may seem like a logical idea to use a stylus with your iPad to improve general accuracy with the device; however, the technology that makes the iPad's touchscreen work is designed to interact with your finger, and does not recognize most other input. There are a few makeshift options you might consider trying, but they work intermittently, at best. Even retail styluses specifically designed for capacitive screens may not provide a satisfying result.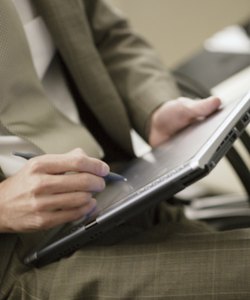 Technology
iPad touchscreens use "capacitive technology," which means, essentially, that the device interprets input based on the electrical field of the human body. Objects that don't produce an electrical field, such as plastic pen or pencil barrels, won't create a signal that the iPad can recognize.
Major Considerations
The most important step in finding a makeshift stylus is finding something that won't damage the screen. Generally speaking, using sharp, hard objects on any touchscreen is a bad idea, which can lead to scratches on the touch surface. Scratches impair its function, and make it difficult to read. Another major consideration is accuracy; most stylus users use styluses for writing or drawing, activities that generally require a degree of precision.
Makeshift Styluses
In order to avoid damaging the touch surface of your iPad screen, and to maintain functionality, try to find an object that approximates your fingertip. Your fingertip is blunt, and it yields to moderate pressure. Since this is the intended input device for your iPad, something with a similar texture and tip would be the logical choice. A pencil's eraser end may work, if the eraser is wet, or if the pencil is wrapped in aluminum foil. This solution has the added benefit of being easy to reshape in order to improve accuracy. It will likely leave marks on or scratch your screen, however. Some articles mention the use of rolled-up anti-static bags, the kind computer components are packaged in. If the point of attachment is large enough, it may even be possible to tip a pencil or pen with the plastic. As a final note, none of these solutions are particularly reliable, and may only provide intermittent functionality. Accuracy will be minimal, at best.
Retail Styluses
Retail styluses and home-made styluses share a lack of accuracy as a major problem. A good deal of pressure is usually required in order to get the most accurate tracking from a retail stylus, and, without having access to the same screen-safe materials as are used to produce retail styluses' tips, there's a very real danger of damage to the iPad screen. If you must use a stylus, use one designed to interact with your iPad — it may not work as well as your finger, but you are less likely to wreck your device with it.
Final Considerations
The majority of ad-hoc styluses are not going to interact with the iPad as reliably as capacitive styluses produced for the retail market. Furthermore, any damage done to the iPad through the use of a homemade stylus will probably not be covered by the warranty. While there are many D-I-Y solutions posted on the Internet, there does not seem to be a consensus on which type works best. Since the iPad was designed with human touch in mind as the primary input method, you'll find that no stylus will work as well on the device as your finger.