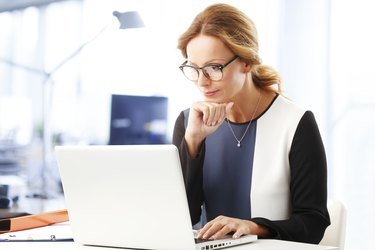 America Online is one of the original companies that ushered the Internet into the lives of people everywhere. If you have an AOL screen name that you used at some point in the past and forgot it, you can't retrieve it from AOL. In this situation, you have some workarounds that can get you up and running with AOL again.
Screen Name Retrieval
If you go to the login screen on the AOL site, you're given a blank in which to enter your username and one for your password. Under the password box, you see a link to help you retrieve your password. While this does help you retrieve your forgotten password, you don't have an option to retrieve a forgotten screen name. As of September 2011, AOL doesn't offer a service that helps you retrieve a screen name.
Contacting a Friend
Although AOL doesn't offer a service to help you retrieve a forgotten username, this doesn't necessarily mean that you won't be able to find it. One method to help you find your account name is to contact a friend or family member. If you were friends with someone on AOL instant messenger, you may be able to get your username back from that person. A friend may also have your screen name saved in his address book.
Setting Up Another Account
If you're unable to get a friend or contact to help you find your AOL screen name, you may not be able to access that account any longer. When this happens, your only other option is set up another account with AOL or another email provider. If you stop using your AOL account for a certain amount of time, the account is deleted. At that point, it will no longer receive emails or work as a login on AOL services.
Considerations
If you set up another AOL account, it's a good idea to create a file on your computer with your login information. This way, if you forget the username again, you'll be able to access the information. Other similar services make it possible for you to retrieve your username and password even if you forget them by answering security questions or by sending a code through a text message. If you're prone to forgetting your login and you don't want to keep a record, using another service may be to your advantage.