The inner workings of a modern hard drive have various parts that work together to create a functioning storage unit. The parts look similar for both laptop and desktop hard drives.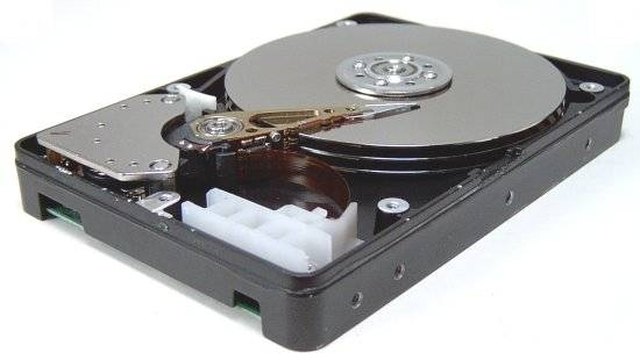 Types
Although there are many types of hard drives (external, internal, SCSI, ATA and IDE) they all look the same when you disassemble them. These types are merely the interface the hard drive uses to communicate with your computer.
Description
The inside of a hard drive features a motor (also known as an actuator) a needle and several shiny, mirrored platters. Depending on the storage capacity of the hard drive, there may be three or more platters. The motor spins the platters very quickly (at least 5,400rpm) and the needle's task is to locate the required data, which is stored on the platters.
Other Parts
Other than the platters, the needle and the small motor, the only other visible parts are the connectors, which provide power and the appropriate interface (ATA, IDE or SCSI) and the logic board, which looks like a circuit board, and is usually green in color.
Sizes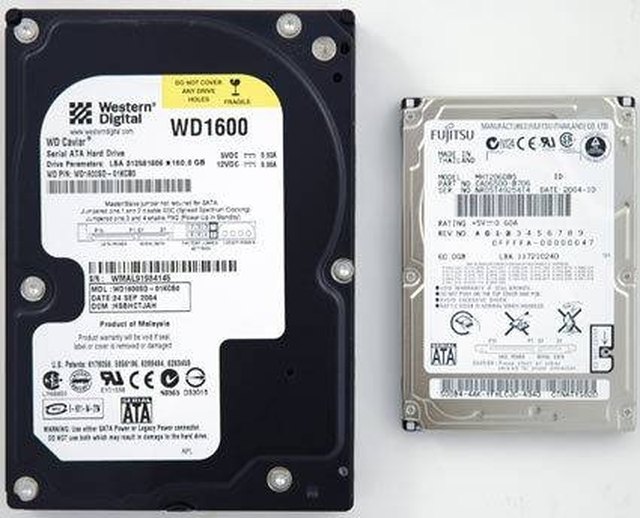 The most common sizes for hard drives are 2.5 inches and 3.5 inches. Typically, laptops use a 2.5-inch hard drive, while desktops use a 3.5-inch hard drive. The parts inside remain the same irrespective of their form factor.
Warning
Avoid opening your own hard drive unless it has malfunctioned, and is no longer covered by the warranty, as this will void any remaining warranty period.