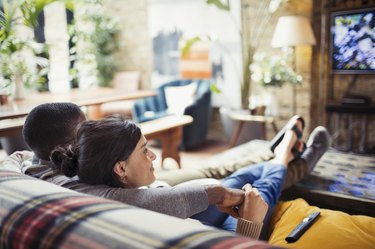 Hulu is an online streaming service that allows subscribers to view current and past episodes of television series as well as theatrical films and original Hulu content. Some subscription plans also allow viewing of live TV. The availability of new episodes on Hulu depends on contracts between the service and individual content providers, so subscribers are encouraged to check the website for information about Hulu new releases. Some shows may appear in the Hulu streaming library the day after airing, while others may lag behind by an entire season.
What's New on Hulu?
Hulu communicates about new releases in a variety of ways. The Hulu website displays new releases by week and month on its "New This Month" page. Premiere dates for Hulu original content can also be found on this page. You also have the option of searching for a series by name on Hulu to find out which season and episodes are available. In addition, Hulu recommends using external sites like Epguides to track the episode numbers and air dates for series you want to follow.
Reasons for Hulu Episode Delays
It's not uncommon for a television show to be placed on hiatus, which means the producers are taking a break from filming new episodes. Networks usually put a series on hiatus during the summer, while premium channels like HBO and Showtime have their own hiatus schedules. A hiatus can vary from several weeks to a year or more. When in doubt, check the website for the series provider to find out when the new season begins.
Unavailable Channels on Hulu
Even though Hulu offers content from a large number of providers in its streaming library, there are still several major providers that are unavailable. This includes Starz, Viacom and AMC networks. Some Discovery channel content is also unavailable. Episodes from shows on these channels will not show up in Hulu listings.
Benefits of Hulu Live TV
The Hulu Live TV subscription allows you to view live and on demand shows, including local and cable news as well as major college and professional sports. It also lets you stream current episodes of television shows and access the Hulu streaming library. Depending on geographical location, subscribers of Hulu Live TV may be able to view more than 50 national network channels and many local channels. Supported networks include ABC, NBC, CBS, the CW and Fox. Premium channels like HBO can be added for a monthly fee.