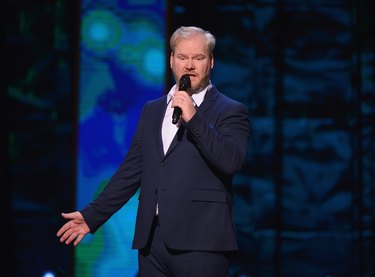 It isn't terribly hard to make young kids laugh. Tell a good knock knock joke, and you've practically made a friend for life — or at least for a few minutes. But as kids grow up, their comedic tastes tend to become more evolved, and the knock knock jokes just don't cut it anymore.
When you feel like your kids are ready to step up their comedy game, introduce them to stand-up comedy. Lucky for them (and you), there are a few really funny stand-up specials on Netflix that are appropriate for kids — as appropriate as it gets for comedy, that is.
Kids may not be allowed in comedy clubs, but they're definitely allowed to watch these family-friendly comedy specials on Netflix (if you say they're allowed to, of course).
Anjelah Johnson: Not Fancy (TV-14)
Anjelah Johnson is known for her spot-on impressions ("Nail Salon" and "Bon Qui Qui") and her ability to hilariously call herself out for not being fancy. Although, she currently has two specials on Netflix and one premiering on EPIX in September — so she's way fancier than she's letting on.
Her squeaky clean jokes will have you laughing from start to finish.
Jim Gaffigan: Cinco (TV-14)
All of Jim Gaffigan's stand-up is hilarious, kid-friendly, and totally relatable — including his most recent comedy special, Cinco.
Gaffigan is known as the king of clean comedy, which pretty much means he's royalty.
Brian Regan: Standing Up (NR, but very kid-friendly)
Brian Regan is another comedian whose comedy is always super clean and suitable for young kids. He turns the most mundane situations — like trying to decide how many Fig Newtons to eat in one sitting — into comedy gold.
His comedy is smart and will leave you and your kids wanting more.
The Sklar Brothers: What Are We Talking About (TV-PG)
Randy and Jason Sklar are identical twins who perform together. They banter about their highly specific observations about sports commentators, mullets, and airport etiquette.
Even though it's available in the kid's section on Netflix, there are a few choice words, and some light adult content. But it's likely nothing your older kids haven't heard before.