Political firm Cambridge Analytica used stolen data from roughly 87 million Facebook users to target voters in the 2016 presidential election. The firm received the data from Alexander Kogan, the creator of a personality quiz that 270,000 Facebook users installed back in 2014, which ultimately gave Kogan access to the data of so many people—possibly even yours.
As promised, Facebook is finally putting a plan in place to restrict date access to third party apps. The company announced that starting today, some users will be seeing one of the following messages at the top of their News Feed: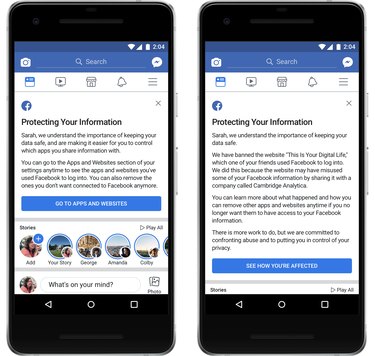 It appears that if you were friends with someone who used Kogan's app "This Is Your Digital Life," you'll see the Cambridge Analytica warning.
"We have banned the website 'This Is Your Digital Life,' which one of your friends used Facebook to log into," the message reads. "You can learn more about what happened and how you can remove other apps and websites any time if you no longer want them to have access to your Facebook information."
If you weren't affected by the data breach, you'll receive a direct link to Facebook's Apps and Websites privacy settings, where you can see which apps have access to your data, as well as the option to remove them.
Unfortunately, once you've given an app access to your information, even if you delete it, the app might still retain your information. Moving forward, your best bet is to avoid logging into apps using Facebook. Just create a username and login and call it a day.