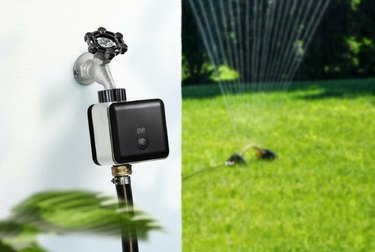 Eve Aqua by Elgato is a smart water controller with HomeKit technology designed to control your sprinklers or other irrigation system. It converts your garden hose into a smart water outlet. So, you won't need to think about when to water your grass or plants on a weekly basis anymore—the smart device does the thinking for you.
Using the Eve app, the Home app, Siri voice commands, or a button on the device, you can turn on your sprinkler and set a timer to shut it off automatically. You can also create a fully autonomous irrigation system schedule in the Eve app.
When connected to a home hub, you can access Eve Aqua from anywhere. If you're on vacation and it's raining at home, you can suspend the schedule. Or if there's a heat wave, you can increase the watering duration. You can also track your water consumption in the app based on your irrigation system's usage meter. The device is UV and water resistant, so it can stay connected all season.
The Eve Aqua is available for pre-order now at $99.95, and it'll ship by June 25th.