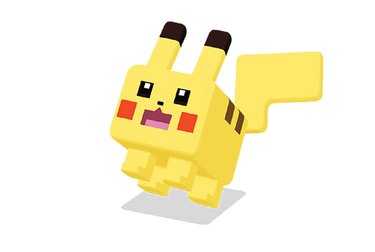 Last week, Nintendo and The Pokémon Company unveiled four new Pokémon games coming your way in the next year. This is huge news for Pokémon fans, because one new game means a lot of new fun to be had, but FOUR new games means there's practically endless fun right around the corner.
The release dates for all the games haven't been announced, but we do have some information. Here's what we know:
"Pokémon Quest"
"Pokémon Quest" is an RPG that's available right now for download on Nintendo Switch—and it's free! It's coming soon to iOS and Android devices.
The game has a Minecraft-style vibe, and it's geared towards "trainers of all ages." It introduces a new place called Tumblecube Island, where you can "face off against wild Pokémon and embark on many exciting expeditions."
"Pokemon: Let's Go Pikachu!" and "Pokémon: Let's Go Eevee!"
These two new games are coming to Nintendo Switch on November 16th, and they're each $60.
Alongside both games, Nintendo is releasing a Pokéball motion controller. The Pokéball Plus allows you to actually throw your own Pokéball. "When catching a Pokémon in the Nintendo Switch games, players will be able to feel it moving within the device," Nintendo said about the controller.
In addition to the three games, there will be a new game in the core Pokémon series, which is coming in late 2019. So, stay tuned and get ready to become a Pokémon Master. (If you aren't one already, that is.)