Apple's iMovie, available for Mac computers and iOS mobile devices, helps casual filmmakers stitch together short custom movies complete with titles, transitions and effects, as well as Hollywood-style trailers from templates. In either case and on any device you use, iMovie focuses on quick, streamlined and accessible moviemaking. Just like importing, trimming and recording, saving your project in iMovie is a reasonably straightforward process by design. When you use iMovie, you can start a project on your iPhone and finish it on your Mac (or vice versa). If you can save on one platform, you'll be comfortable saving on any of the others.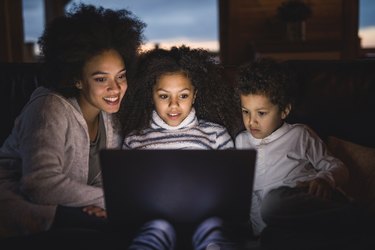 How to Save in iMovie
Whether you're on a mobile device, laptop or desktop, the area in iMovie where you place and edit your clips and add audio or effects is called your workspace. It's here that your project is saved, rendered and eventually exported.
Good news on the saving front: iMovie does most of your work for you, as it regularly saves your project automatically while you work. You have options for doing it manually, too. On your iOS device, tap the "Share" button (the box with the arrow pointing upward), choose the quality of the file you want to produce and then tap "Save Video" to save it to your device.
On your desktop or laptop, you can save manually by clicking the "Share" button. Click the filmstrip icon to save the project as a movie file on your computer.
How Do You Save Video From iMovie to Your Desktop or Laptop?
Once your movie is saved on your mobile device, you can use Apple's Photos app or your iCloud account to move the file to your Mac desktop or MacBook laptop. To use Photos, make sure you have the latest version of iTunes on your Mac and then connect your mobile device to your computer using a USB cable. You may be prompted to unlock your iOS device with your passcode, but Photos should automatically open on your computer. From here, the Import screen allows you to click the photos or videos you want to move to your computer. Click "Import Selected" to add them to your Mac. You can also click "Import All New Photos" to streamline the process.
iCloud syncs your photos between your mobile device and your Mac automatically as long as both devices have access to the iCloud Photo Library. From settings, go to "iCloud" and tap "Photos." You'll see a slider next to "iCloud Photo Library." Make sure it's in the On position to allow shared access to all your saved photos and videos across all your devices.
Can You Share a Project on iMovie?
Sharing and saving go hand in hand in iMovie. Whether you're at home, on your laptop or on your mobile device, it all starts with the "Share" button. Rather than choosing to save the video to your device from the Share menu, you can choose to send it via email or upload it to YouTube or Facebook directly. If you haven't already logged in to these platforms from your device, you have to provide your login information before sharing.
How to Save iMovie to Various Formats
iMovie natively exports in Apple's QuickTime format. However, when saving a project, the app offers numerous options including the option to export video and audio or just audio, the resolution of the movie (up to 4K), and the compression settings, which reduce image quality while reducing the file size and export speed of the project.
How to Save an iMovie for Instagram
Though iMovie supports 4K video on the iPhone 6s, iPad Air 2, iPad Pro and later devices, bite-sized Instagram stories only support a maximum resolution of 1080 pixels wide and 1920 pixels high. When choosing the resolution of your iMovie during the saving and exporting process, it's best to choose 720p to prioritize upload speed or 1080p to prioritize image quality – a 4K video is overkill for both your data plan and Instagram.
You can't use the Share button to upload your iMovie to Instagram directly like you can with YouTube or Facebook. Export your iMovie as a file instead and then upload it to Instagram.