Any social media app lets you post photos, but Snapchat makes it fun. It's filled with filters and lenses that let you play with your images and videos, making them silly or sentimental or anything in between. It also provides an effective way to publicize an event or promote your business. Making your own filters is simple even if you don't have graphic design skills.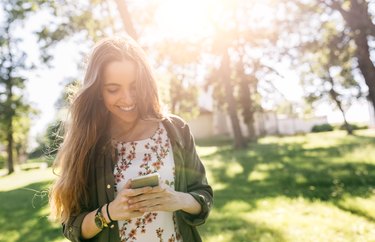 What Is a Snapchat Filter?
A Snapchat filter is a second image you slide onto your picture as an overlay. It can be a snippet of text, a graphic design or a combination of the two. At its simplest, a filter reminds you where and when you took the picture, as in "Class Trip 2018" or whether it was Father's Day or your sister's birthday. For moments like Mother's Day or Easter, a filter turns any picture into an on-the-fly greeting card. If you own a business, you can create a filter of your company's name or logo and invite satisfied customers to show their loyalty or earn a discount by using your filter on their images.
What Is a Snapchat Geofilter?
Geofilters add an interesting wrinkle to the basic idea of a filter. Instead of being always available, geofilters are tied to a specific location. If Shapchat recognizes that your location coincides with a geofilter, it shows up when you swipe right to add filters to your image. They provide a fun way to commemorate a trip to a famous tourist spot, but they can do more. You might set up a geofilter for your wedding or your epic beach party. They're available as free community filters for public places or as paid on-demand filters for special occasions and business use.
How to Make a Snapchat Filter
Most filters are geofilters except for the "Moment Filters" available from the Community Filters library. To make one of these, you use a separate graphics program such as Photoshop, Illustrator or GIMP. If you don't have one of those programs or the skills to use it, you can use templates from free online sites such as Canva. When you draw a design you like, look at Snapchat's guidelines to make sure you follow them. To finish, go to Snapchat's main page and choose "Create," then scroll down and choose "Community Filters" from the Creative Tools options. Click "Moment Filters" for everyday-use filters. You'll see a design page where you upload your filter and choose from a list of categories for it – food, pets, shopping, concerts and others – and then click "Continue." Type in your name and a description of the filter and submit it for approval. There's no cost for this unless you use a paid third-party service to create the filter for you.
How to Make a Snapchat Geofilter
A community geofilter works the same way as a Moment Filter except for an extra step where you choose the geographic area for your filter. It could be a neighborhood in your city, a popular tourist attraction or your favorite park. The link to the guidelines is at the bottom of the page when you're creating the filter. When you're satisfied with the design, click the "Continue" button to see a map of your location. Draw a geofence around the area for your filter and click the "Continue" button again. Name and describe the filter and then submit it to Snapchat for approval.
How to Make an On-Demand Geofilter
Community geofilters can be fun, but they're not personal. If you want to make a custom filter for your event or business, you need to create what Snapchat calls an "on-demand" geofilter. These are easy because Snapchat provides many templates for this purpose. From the site's Create screen, choose "Filters" instead of "Community Filters." You can choose templates from several categories and then tweak the color, text and design elements. When you're done, click "Next" to choose the dates and time for the filter, and "Next" again to draw a geofence. Click "Checkout" to pay.
Your filter can be live for as little as an hour, or you can keep it going indefinitely. The cost goes up depending on the size of the geofence and how long you want to keep it active. Prices start at a few dollars for an hour at your home address or a couple of hundred for a day and an area of a few city blocks. Geofences that include a city center or high-traffic location can be pricy. If you want to stake out a stadium during a playoff game, it'll cost you thousands, but that might be a bargain depending on your business model and the cost of your usual advertising.
Other Ways to Make a Filter
You don't have to use Snapchat's site to make your filter. You can use Photoshop or another graphics program to make your own or browse the templates available for purchase at third-party sites such as FilterPop and Pepper Filters. You can pay professionals to do it for you at sites such as Geofilter Studio or your existing marketing firm. You'll pay a premium to have your filter custom-made, but it's often worth it. Your filter will look professional and drive social media engagement. For personal use, it's one less thing to stress over as you plan your event.
How Long Does It Take for a Geofilter to Be Approved?
The time it takes to approve a filter varies. If you follow Snapchat's guidelines scrupulously, a community filter can be approved in as little as a few hours. On-demand geofilters can take a couple of business days because the company scrutinizes those closely to make sure you're not using anyone else's intellectual property. If you're working with a time constraint, submit your filter early so you can tweak it if it's rejected.
Other Considerations
The best thing you can do to ease the filter-making process is review Snapchat's guidelines in detail. Start with the image size, which isn't open to interpretation. Your image must be 1080 pixels wide and 2340 pixels tall, and it can't be any larger than 300KB. Only the biggest phones will show that whole image, so you shouldn't put anything meaningful in the top or bottom 210 pixels. Snapchat's filter-creation screen grays those areas out as a visual reminder. The other important thing is not to use any image you don't own the rights to. Only Coca-Cola can use the image of a Coke can, for example. If you use images pulled from the internet, check the source and confirm it's licensed for free public use.